Info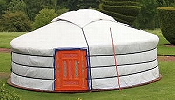 Partners
Camping & Campsites in Worcestershire We're listed on Lovecamping.co.uk
Yurt camping at the Malvern Hills | Self Catering Breaks
Welcome to Yurt camping at The Firs
Malvern Hills has long been a sought after destination for visitors from around the world. The open common land offers 12000 hectares of space where visitors are free to explore.
Now you can explore this Area of Outstanding Natural Beauty and camp in style. 졭p鮠comfort in a genuine Mongolian yurt.
The Firs is set at the foot of the hills in a magnificent location with panoramic views.
And now, new for 2016! Arriving in June.