Info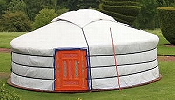 Partners
Camping & Campsites in Worcestershire
We're listed on Lovecamping.co.uk
Yurt camping at the Malvern Hills | Self Catering Breaks
About us

We have a wealth of experience in providing guest accommodation and hospitality in general. Our previous business was running a successful 5 star Gold award bed & breakfast which we sold in 2010.
Our new venture strives to provide the same high quality service to our guests staying in one of our yurts.
We keep free range chickens and ducks and we are able to supply guests with fresh eggs. We also offer breakfast packs for guests to cook themselves using the excellent facilities provided or we can provide freshly baked croissants, pain au chocolate, pastries etc.
Information about what there is to see and do in the area can be found on site and we are always willing to impart our local knowledge. We want all our guests to enjoy themselves and feel relaxed.


So, when a group of friends to ask me what gift to send to
swiss replica watches
their most beloved man, I will express my opinion solemnly with "watch" two sonorous and
replica watches
forceful words. Really, I can't think what I watch is more suitable than a man, the woman he would not let him wait, punctual man definitely needs a good watch
omega replica
-- no man will take a stroll around the clock. To urge his men to grow up as a good man, send him a watch
hublot replica
is better.