Info
So, when a group of friends to ask me what gift to send to
swiss replica watches
their most beloved man, I will express my opinion solemnly with "watch" two sonorous and
replica watches
forceful words. Really, I can't think what I watch is more suitable than a man, the woman he would not let him wait, punctual man definitely needs a good watch
omega replica
-- no man will take a stroll around the clock. To urge his men to grow up as a good man, send him a watch
hublot replica
is better.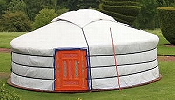 Partners
Camping & Campsites in Worcestershire We're listed on Lovecamping.co.uk
Yurt camping at the Malvern Hills | Self Catering Breaks
Looking for bed and breakfast close to the Three Counties Showground? Why not try staying in a fabulous yurt as an alternative to bed & breakfast?
Simon and Jenny no longer offer bed and breakfast in Hanley Swan, however, we can offer our exciting new venture at The Firs on the edge of Castlemorton Common, Malvern.
Still within a 5 minute drive from the Three Counties Showground we now offer short breaks in one of our yurts! Experience exotic glamping in a yurt, a Mongolian home, in one of a lovely meadows with all the comforts of home. Ideal for taking an overnight stay or a three or four day break, particularly if timed in with an event at the Showground. Take a look around this site for more information.
We are offering special deals throughout the glamping season so please check this page frequently for the latest of whats on offer.
If you have been one of our guests in the past it would be lovely to see you again.